Seven club acquisitions in 18 months, allegations of fraud, offering illegal loans, and failing to pay bills totalling hundreds of thousands of US dollars. These will all be subjects to breach at the Premier League owners "fit and proper persons" test, as American investment firm 777 Partners begin the process of acquiring Everton FC.
It has been two weeks since the announcement that the sale of the Merseyside club was agreed between Farhad Moshiri and 777 Partners. To the avid Get French Football News reader, this name is rather familiar.
The firm already holds stakes in eight football clubs – including Genoa, Sevilla, Vasco Da Gama, Standard Liège, Hertha Berlin, Melbourne Victory, and French third tier side Red Star FC. Not only does the firm have investments in football, but also in Basketball – as owners of London Lions, and 45% of the British Basketball League itself.
The rumoured bid for Everton saw English media spring into life to try and ascertain the motives behind 777's mass acquisition strategy. It followed an explosive article from Norwegian outlet Josimar, who revealed that the Miami-based firm is embroiled in several court battles in the US involving predatory lending, fraud, and the failure to pay bills totalling hundreds of thousands of US dollars. This is not to mention charges of cocaine-trafficking levied against co-founder Josh Wander, something that the American later said was a "stupid college thing."
Reports from The Telegraph also revealed that Premier League is facing pressure from concerned senior figures in the UK Government over the sale, with sources expressing doubt over the suitability of 777. But what is the outlook currently in France?
Is it still "777 Not Welcome" in Saint-Ouen?
At the time of writing, Red Star sit top of the French third tier, on a run of winning their previous five matches with manager Habib Beye after missing out of promotion by just two points in the previous campaign. Off the pitch, the club is in a period of transition, with the old terraces of Stade Bauer being renovated so that the side can compete in Ligue 2 if the chance swings by once more.
In April 2022, news of takeover talks of Red Star were met with protest from the club's fans, leading to the abandonment of a third tier fixture. As the lowest ranked club in the 777 'family', fears arised over the multi-club model's suitability for a working-class club in the region of Seine-Saint-Denis, the region with the most poverty in mainland France.
In the Parisian suburb of Saint-Ouen, the fears among supporters surrounding 777 Partners still remain. One French proverb could perhaps summarise it all : the relative good performance on-pitch at the club is the tree that hides the forest of 777 woes. This is to say that whilst the American ownership has been careful in managing (what was) their most contested asset, it doesn't mean that ideological concerns aren't still present.
And it's not just a question of ideology for Red Star fans. 777 boss Josh Wander promised in June 2022 that the firm "Will always operate according to what is best for Red Star FC," before announcing a freeze on ticket prices during the reconstruction of Stade Bauer. It only took a year until a real-terms price increase for season ticket holders was announced, but then retracted under pressure from the club's fans. It was an increase that saw prices rise to a rate higher than some Ligue 1 clubs.
"We're angry for several reasons," said the spokesperson of the club's fan group to BFM Île-de-France on the matter "For cancelling season tickets and increasing their prices when nothing justifies it – Red Star have stayed in the same division for five years. It's an 83% increase even though the club have been exonerated from paying rent on the stadium until 2025 when reconstruction has finished. […] To go back on a promise in a years' time is something worrying for the future."
The club nonetheless ended up reviewing its ticketing policy for season ticket holders after meeting with local authorities and supporter representatives. A year of 777 ownership has seen sustained contestation from a section of Red Star fans, balancing against the need to support their side's promotion push.
The public defence of 777 from Red Star
If there is a sense of cognitive dissonance created by the club's on-pitch resurgence, it has been a useful tool to publicly defend the American ownership of the club. Manager Habib Beye and Sporting Director Reda Hammache spoke at length on Le Foot des 5 during the summer about various topics, including the nature of the club's relationship to 777 Partners.
"Josh Wander or his associates have been present for 50% of the matches either home or away," said the former Newcastle man Beye. "They are multi-club owners with people who are present at the club."
Hammache revealed "Every day I have meetings with the other sporting directors where we talk about business, how we can work on exchanging experience, skills, and knowledge." The pair said that the Americans have shared expertise in data and reporting, with a new data department at the club made of five analysts.
However, they recognised the nature of the multi-club model that if a player was performing exceptionally for Red Star, they could be subject to being poached by other clubs in the 777 group. "If one day we have a striker who is playing well for us and is a top talent – a club like Standard may say that they want him. We'll discuss but it will be an exchange rather than simply giving them away."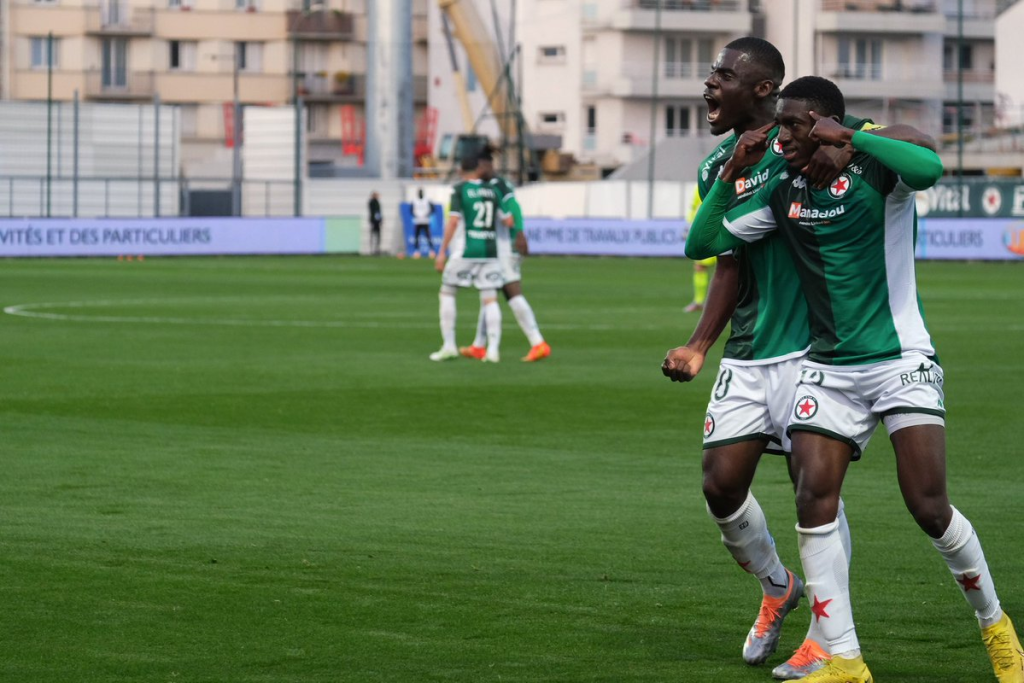 The red flags away from Red Star
American multi-club investment is as rife in French football as it is becoming in the Premier League: Strasbourg's takeover by Chelsea owner Todd Boehly's Clearlake Capital adds to a long list of US investors including John Textor's Eagle Football Holdings at Olympique Lyonnais, Bill Foley at FC Lorient, and Redbird Capital Partners in Toulouse FC.
"Is there anyone in the world that's been more serious about buying football clubs in history than Josh Wander?" These were the words of Wander himself in an interview with the Financial Times when seeming to push for the 'hyper commercialisation' of football.
These were the words of a man who was recently elected to the powerful board of the European club association (ECA) as a representative of Standard Liège. However, "No money, no ambition" was the message from the Belgian club's fans who recently protested against the club's ownership. Relegated Hertha Berlin has also seen unrest, with fans envious of the European dreams being realised by their cross-city rivals Union.
A quick look elsewhere and more red flags appear. 777's funding of UK Basketball was reportedly in doubt, according to Josimar. Meanwhile, Ex-Sky Sports NBA journalist Stuart Hodge reported that London Lions were being investigated by the BBL to ascertain the suitability of 777's ownership. Meanwhile, The Times chief sports reporter Martyn Ziegler revealed leaked emails which shows that Everton's potential buyers have put the BBL at risk of immediate administration after cash flow problems caused by delayed payments.
Whilst the dominoes are yet to fall for 777 Partners, the red flags are seemingly appearing everywhere. If their acquisition of Everton is waved through by the Premier League, this trend will be set to continue with one of English football's most historic and respected football clubs now at risk.